Chelle Construction was founded in 2001 and from its inception performed work as a General Contractor/Construction Manager and/or Structural Subcontractor. It is this experience as both a general and sub-contractor that differentiates us from our competition in terms of our viewpoint, experience, resources and ability to control the pace and quality of a project.
The energy and enthusiasm we instill in our teams and on our projects has resulted in a solid base of clients that ask us to build of them again and again. Currently, over 70% of our workload is represented by repeat business. We are a full-service General Contractor providing pre-construction and construction services.
Markets
Commercial
Dining & Entertainment
Multi-Family
Industrial
Hospitality
Public / Government
Education
Healthcare / Medical
Mission Statement
Chelle Construction's goal is to provide innovative construction solutions which exceed our client's high expectations. Our commitment serves to achieve lasting relationships through integrity and performance while creating a fast-paced work environment that is both safe and rewarding.
Team Members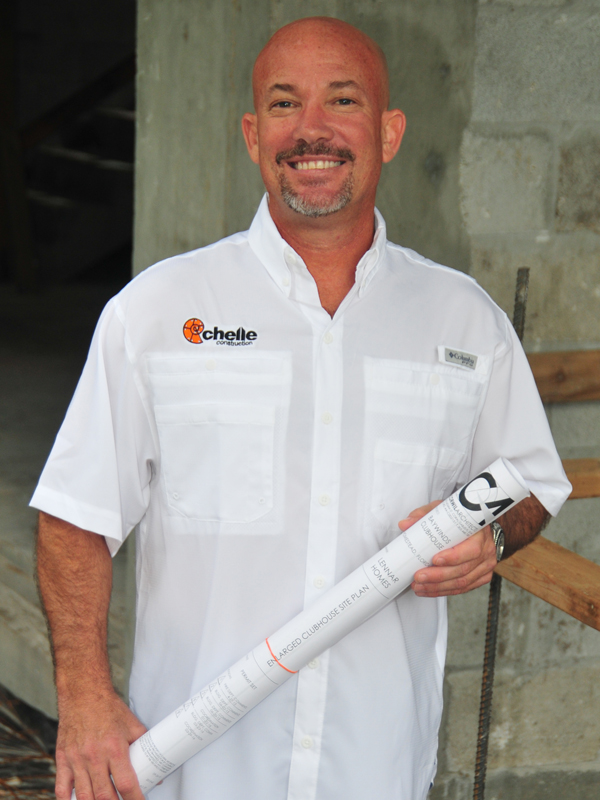 RICHARD LEHMAN
LICENSED GENERAL CONTRACTOR
Richard Lehman identified and seized the shell construction opportunity by putting together the Chelle Construction Team. Richard is responsible for sales, construction quality control and the management of all "turn-key" projects. Selected career highlights include:
• Over 20 years of residential and commercial construction management experience including 8 years of production home building for Lennar Homes.
• Built over 2,000 homes in 19 communities within Dade County.
• Implemented Lennar's Zero Defects program as well as Customer Service Systems.
• Authored the Construction Manual utilized nationally by Lennar Homes.
CHAD STARK
LICENSED GENERAL CONTRACTOR, LICENSED FLORIDA REALTOR AND LEED ACCREDITED
Mr. Stark was born and raised in Miami and has a detailed knowledge of the area and its development potential. Graduating from the University of Miami in Entrepreneurship and Management, he later obtained his Real Estate License, General Contractors License and LEED "Green Building" Accreditation. With these tools, Mr. Stark has successfully completed a wide verity of residential and commercial projects. He focuses on providing excellent Project Management, Scheduling and cost control. "A successful project is a well managed project. Information must be shared effectively and efficiently. My job is to make sure everyone has what they need to get the job done."
• Over 15 years of commercial and residential construction in the South Florida Area
• A technical thinker. No project is too complicated, with the ability to understand the end result, he is capable of figuring out the middle required to get you there
• Sustainable building certified, and a passion for the environment, ready to build your LEED certified project.
Representative
Customers
• CC Homes
• Lennar Homes
• ADJ Properties
• MPG Development
• Beauchamp Construction
• Paragon Consulting
• Cardinal Development Group
• Scares De Costa
• Coral Rock Development Group
• Trigram BC
• Ideal Builders
• Weintraub Construction
• Moss & Associates
• Wynne Building Corporation
• Maleta Construction
About Us